So...  I don't have a Facebook page and will never have a Facebook page.  I'll save you the rant but suffice to say I'm not a fan.
I drop in on this forum from time to time looking for parts or looking for pics of how others have done something.
Been building my P'up for a few months now and have a bunch of photos stashed away.  Hopefully I can post some periodically and get up to where it's at today.
This project began as something to keep me sane during the COVID drama.  My wife went through a bunch of chemo and radiation last winter so her immune system was really touchy.  Then she got a 6 month round of an immuno booster drug that the docs said would not play well with the COVID.  Something about the super immune system overreacting to the virus.  We've been frickin hermits since February.  
Being bored, I was cruising Craigslist too much and dreaming of building a car.  We had just sold a VW campervan (which we loved) and I was thinking of a slammed VW pickup.  OK - wow! - rusty old VW pickups must be solid gold under the rotten panels.  Then I ran across some early Econoline pickups which look equally (more?) cool without the stratospheric price tag.
This truck came from Arkansas.  Transported to Utah by B&K Haulers through Uship.  Purchase and shipping was great.  When it arrived I had an "oh shit" moment because my bunch of internet cruising and dreaming suddenly became real.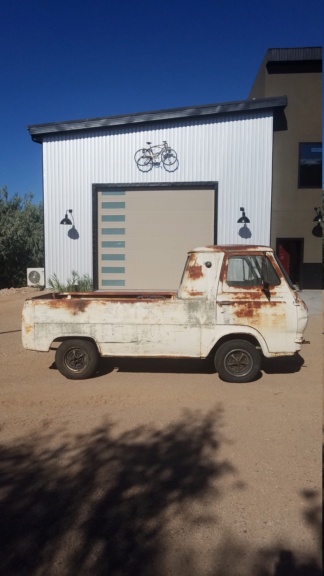 More to follow.