Last week, my turn signals quit canceling on left turns as the old plastic cam had broken. I found some good information here (early Ford Bronco turn signal cam as a replacement) and ordered a Dorman 49305 cam from O'reilly. It looked like a straight forward, maybe an hour, procedure to swap cams. Everything involved had been apart last week to straighten the steering wheel and replace the disintegrating horn switch (NOS MOPAR PN 2076543), so the turn signal cam should have been a piece of cake. Well, almost. It appeared that the switch could just remain in the column. I pried the small metal retainer up and broke it off the shaft that holds the cam to the switch,
and carefully worked the broken cam up and off the shaft. The new Dorman cam looked like a fairly close copy of the original, except he Dorman had two red wires, while the original had one red and one white wire.
With the old wires soldered to the new cam, and the new cam slid back on the shaft, voila, no turn signals. The brake stop lite circuit through the switch worked, and interrupted the stop lites correctly, but no turn signals front or rear. The new cam canceled correctly. After taking everything apart, testing the circuit from the fuse, replacing the flasher, and reassembling many times, I finally broke down, removed the switch and found the problem.
One of the spring wire contacts from the new cam (the outer contact wire) was too long and riding up on the edge on the switch body. It was being held above the brass contacts in the switch, preventing contact between the flasher circuit and the switch itself.
With about 1/8" clipped both ends of the spring wire, and the new spring wires bent up from the cam to match the factory cam,
the turn signal worked perfectly again. The wire clip seems to work fine as a retainer for the new cam. If it comes loose at some point, I'll drill and top the shaft for a threaded fastener.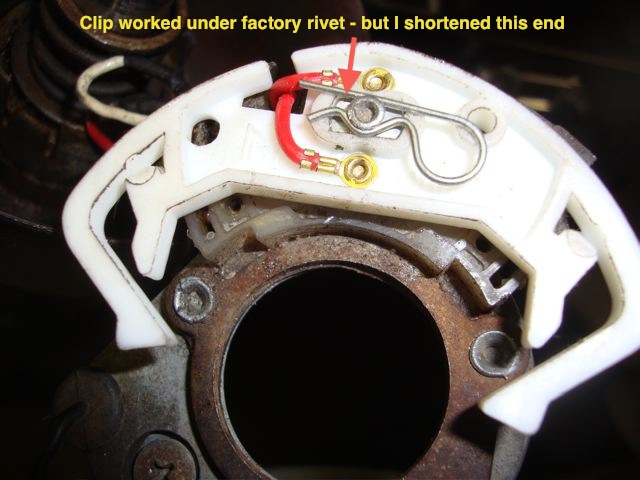 Maybe this will save someone else a lot of frustration.