I just completed the D&D brake conversion. Overall I'm very satisfied with the net result, the van stops nice and straight and just as fast as a modern vehicle. With a complete rebuilt suspension and steering box and new king pins, it feels very stable and nice.
This is not the first conversion I have done, it is actually my 4th (a 49 Ford, a 55 F-100, a 58 Desoto and now my 65 Econoline), so I'm no novice. While the kit claims to be an easy install (and for parts of it, it is easy) there are some things that should be mentioned in the kit that would save a lot of trouble for some. I have asked Trevor from D&D to please make these notes to the installation instructions.
Master Cylinder
By far the biggest pain in the butt is the master cylinder. First of all there are two master cylinder styles (maybe more) for the Bronco II and because they are not exactly flying off the shelves it took me 5 trips to parts stores just to find a second one when I was having issues with the first one. (You have to pop the resevoir off to tell if you have the right one or not- the difference is in the inner diameter of the rubber fittings- so you need to be there in person to test it- a phone call will not help you).
I live in the Baltimore area and there are no O'rielly's or Carquests near me so I bought my MC from AutoZone and it was a Duralast. We do have Advance Auto's here who own Carquest, but the part number pulls up as a power steering pump, and the only part # they have for the bronco II is discontinued so go figure.
The duralast unit comes with a resevoir installed that easily pops out. However this unit will NOT work. The fittings do not seat fully into the rubber and it will leak everywhere.
The only other MC I was able to find came from NAPA. When you ask around, some parts stores will ask if you have manual or power brakes. D&D makes no distinction on their website. When I finally got in touch with Trevor from D&D, he told me it does not matter, so that info will save you some time searching. Manual or power brakes, it doesn't matter. The NAPA master has the same last 4 digit number as the carquest or Orielly part, I don't have the Nappa part # in front of me.
The NAPA MC also comes with a resevoir that is removable, and the fittings do fit, but not perfectly. However you can use the resevoir and save yourself from buying a remote mount from Tilton that leaks and has no gasket in the cap. So BONUS there but you will have to make a bracket. In addition to the bracket, I simply epoxied two fittings to the resevoir (see pics below).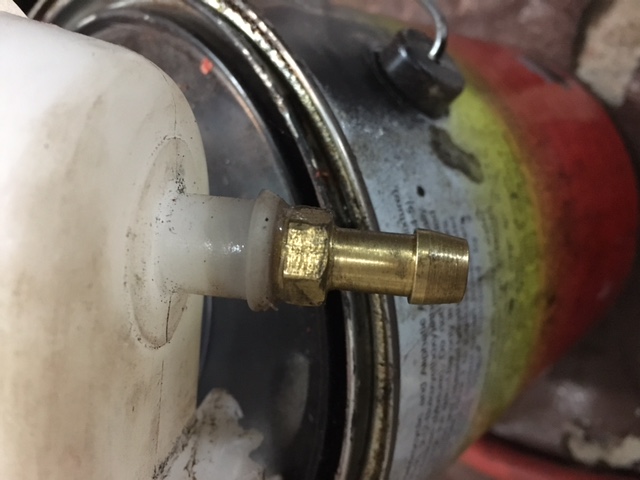 Remote resevoir fittings
To get the supplied aluminum kit fittings to stay in and tight, I used a 1 ton arbor press to push them in, and while under pressure, I used some safety wire to hold them in place, otherwise they want to continue to pop out. (see pics below)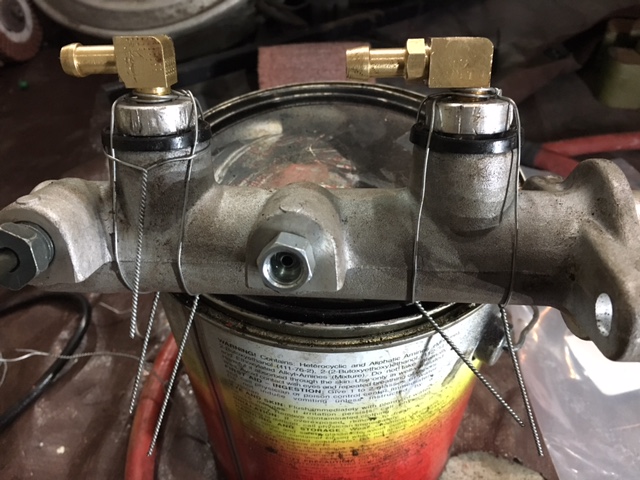 Remote resevoir hoses-
The kit says to simply get some "brake fluid resistant hose". Nobody carries this and I wish the instructions would have made this more clear. Fuel line will NOT work. I'm going to save you all a lot of aggrvation and tell you that you need to order two 30" hoses from Summit Racing the part number is WIL-220-3357.  Knowing this ahead of time will save you three days and from having to re-do this (I used fuel line first time not knowing that was the wrong thing and the parts store idiots said it was resistant to brake fluid- it is not!)
Fittings-
In addition to the supplied fittings, you have to get your own. Again I wish the part numbers were supplied as in my opinion there is only one way these will work. It took me a couple of evenings after work to finally get a workable combo. I wish I had kept better notes of what those fittings were and If I can figure out which fittings I purchased I would supply that info (and may add it after this post if I can find the part numbers).
In the image aboveI show two 90 degree bends. That will not work for the one above the front brake port as it will hit the bracket. You could maybe cut the top bar of the bracket to make it fit. What I ended up doing was using a 45 degree fitting and then used the same nipple fitting in the photo. You can then run the hose up over the bracket top support and avoid any kinks in the hose. The 90 that I show works great for the rear port. Unfortunately I did not take a pic of the final set up and its really hard to photograph when intalled.
Length matters when it comes to the fittings- shorter is better
I first used some fittings pointing straight up that I got from the parts store that were too long, The hose, when attached, makes such a tight 90 bend that it seemed like the fluid would be pinched off. Even with a shorter barbed fitting, you are asking a lot of the rubber to bend in such a tight spot. The single 90 and the 45 with the shortest barbed fitting is the way to go.
My 65 Econo needed all of the cutting that some vans need.
I have read about  the hubs needing to be machined. I did not do that. When I first test fit the rotos and calipers I thought I had instantly regretted that decision as the whole thing was super wobbly and would move the pads side to side. On a whim I just put in all the lug nuts and torqued them down repeatedly as if there was a wheel on there, it took a couple of sequnces of tightening but it pulled everything in nicely and the wobbling was gone.
You need to bench bleed the master while it is installed. There really is no other way because you will have to rotate the MC to get everything in place. It is really a pain to bench bleed one on the vehicle because it takes more hands than you were born with.
Residual Valves
-I could never confirm if my MC had residual valves or not. It probably does but I went a head and ran a 2 lb front and a 10lb rear. It doesnt hurt and if anything it might help the pedal travel. The kit says you will have increased pedal travel, I cannot tell a difference and it might be beacuse of the residual valves, not sure.
Brake hoses.
When I first mocked up the set up I though my god these hoses are going to rip right off as they seemed short. Another day lost and another call to Trevor to confirm if maybe I had the wrong hoses and he said that is another problem some people run into. I have yet to read this in any if the froum posts so I'm posting it here. In some cases, you will have to re-locate the brake hose bracket. It unbolts with one bolt. I ended up welding mine on, but if you are not a welder you could probably drill and tap the frame. In my case they had to come forward and down to where they are flush with the frame. There is a reinforcement built into the frame that has two ridges on it. The brake tab locks into this ridge on the back. You will need to relocate your brackets so that the bend lines up with the ridge on the other side closer to the axle. I could take a pic if need be.
Hopefully this will save the next guy some aggravation. Please do not take this as a knock against D&D brakes, as it is not intended to be. I am very thankful that somebody else figured out how to make a workable kit so that I don't have to. As I said this is my 4th kit and the net result is worth every penny, but of the 4 different vehicles I have done, this kit was the hardest to do, so please take these tips as they are intended to be, just tips to help the next guy.