I wasn't looking for a van; I was just returning a tool a friend had loaned me. On my way to his house I notice this old travel trailer in the yard of one of his neighbors. I have been collecting and restoring vintage trailers for a few years and am always on the lookout for them.  So I asked my buddy, if he ever catches his neighbor home to ask if he would consider parting with the trailer.
A couple weeks go by and we end up making a deal on the trailer (free). While digging out the trailer I notice this old van tucked up under the trees in his back yard. I'd been thinking about a van as a tow vehicle for my trailers, although I had a late model in mind.  I'd also been toying with the idea of a classic pick-up truck. I had never considered an early van, yet during the time it took to collect the trailer I couldn't get that van out of my head. Before leaving with the trailer I asked the owner what's the story on the van.
The van had been his job truck, he was a tile setter, but more so his hunting and fishing rig. This guy used to live out of the van for weeks at a time, hunting, fishing, and exploring while driving that van all over the Olympic Peninsula. The van's engine had developed an intake manifold leak; it is a rebuilt 327 out of a 1968 truck so he says. He had gotten the manifold removed but that was it, and that's where the van sat for the next 30 years. It was easy to understand why he had hung on to it for so long.
Lately he had begun to accept that he would never get the van back on the road. He offered the van to a few of his buddies, with no takers, and was about ready to call the crusher hoping to get a couple hundred bucks for it. He is a simple man, a bit ornery, never married, doesn't have a cell phone, never has, doesn't own a computer, wouldn't know what to do with it, and didn't want to hassle with running an ad or anything like that.
Well, after giving me the trailer he had wizened up. He had wanted to go through the contents of the trailer before letting it go, so we spent a couple days emptying it and literally spread the stuff all over his yard. He offered me the van for $200, and for $250 I could help him sort out the van parts from his junk and he'd take care of the junk. At that price I didn't think I could go wrong, so we shook on it, and for $250 it was mine.
Here's how she sat when I spotted her. This is what caught my eye:
After cutting back some tree branches we could get a better look:
Up to the bumper in tree droppings: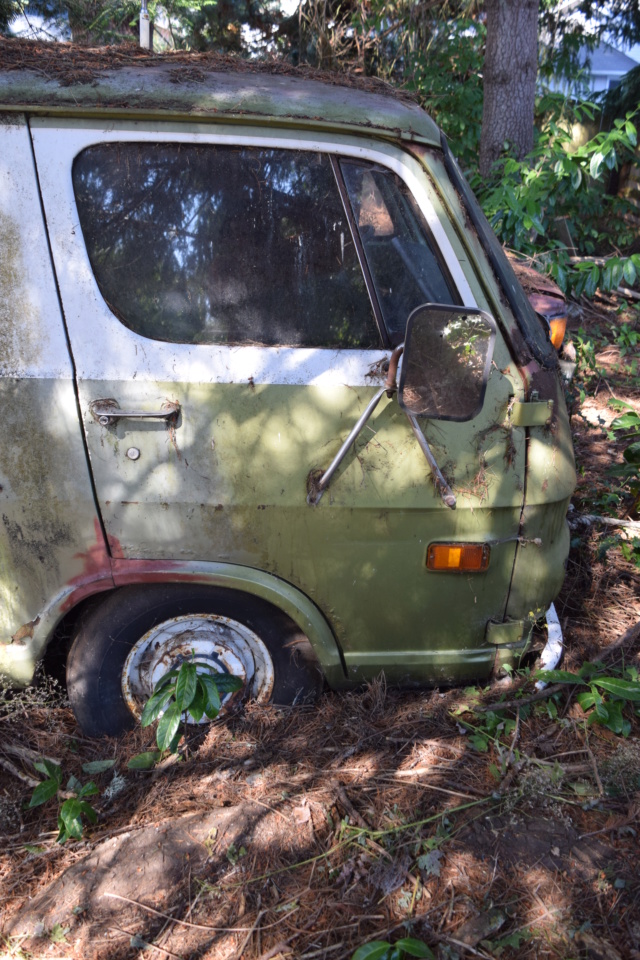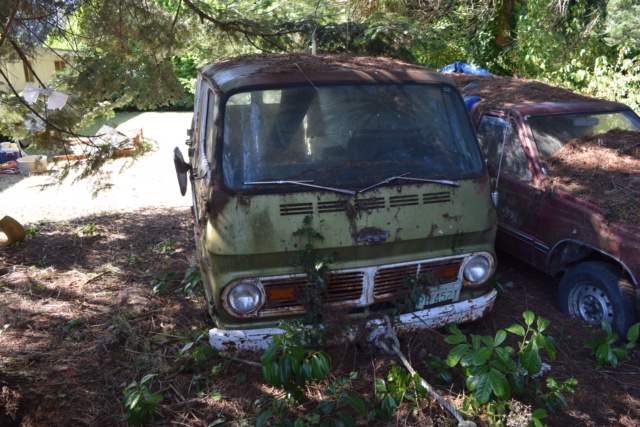 That tow rope has been attached to the front bumper since 1988.
A couple pics of the back end: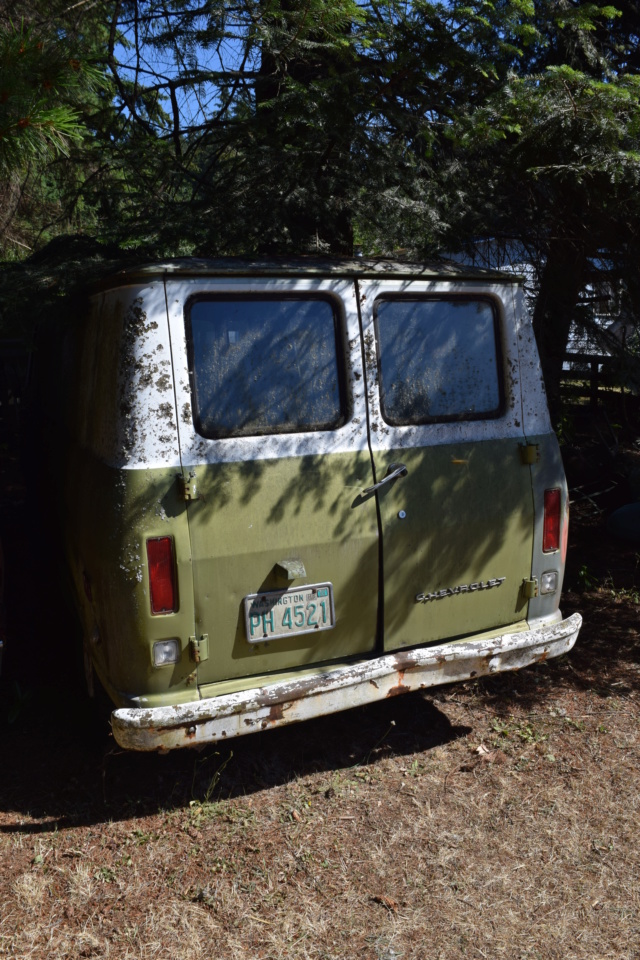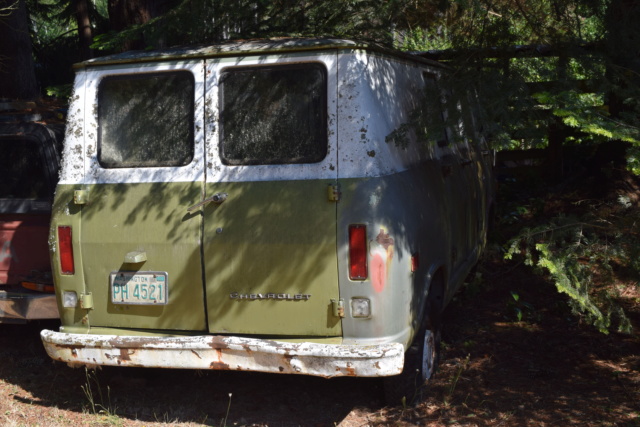 The seller enjoying a coffee, a smoke and a few memories: