Well, since I finally sold my GREEN 1965 Sportvan, I figured its time to start a new thread for the newest van Ive acquired.
Meet Jeff (left) the new owner of my old Sportvan. he's from Northern Wisconsin. I told him about the site. Hopefully he joins us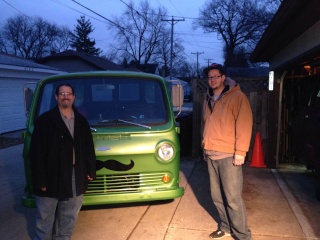 It all started one day at Taz's Van fest just a couple months ago. I finally got to meet a fellow Vanner named Rich, who lives near me. He was kind enough to invite me over one day to his house to talk vans and show off what we both have. Rich's most recent purchase was a van from ebay, that was listed in Chicago. Rich had this van for about two months. After hanging out for an hour or two and checking out his vans and mine, I had to ask Rich the million dollar question…. Will you sell me the red one? A bit shocked he had to think for a second. A few days later I got to pick up my new van. It's a 1965 Chevy van with dealer installed glass. The van is pretty much all original and untouched. 230 motor and a powerglide transmission. The interior even has the original washer fluid bag on the inner fire wall. I couldn't pass up the opportunity to ask to buy this van, and I sure am glad I didn't! Heres just a couple pics for now.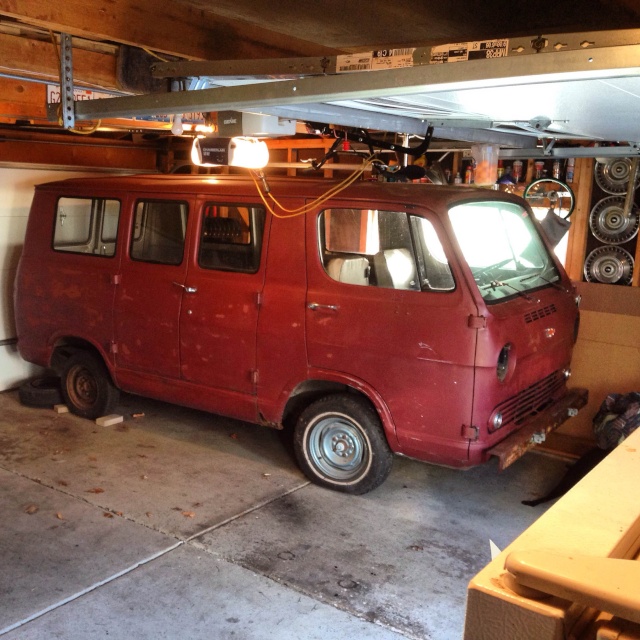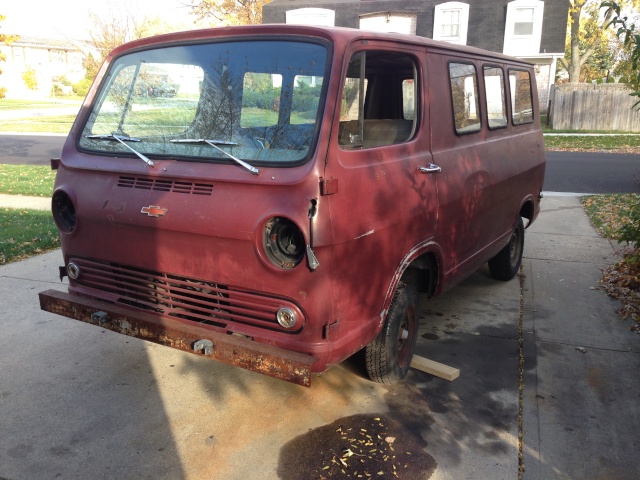 So as for my Van Plans, a little story to make sense of what I'm planing to do. So back in oohhh 1913 my Great Grandfather stated our family business called ALLEN TILING CO. In Chicago, Back then the biggest tiling company in Chicago, and in the nation at one time. My dad was the last one to run the company until 1996 when he closed the doors, do to slow business. I was lucky enough to share the family business experience with my old man before he closed it. Anyways they had a fleet of work truck…. Obviously. Here are a few Pics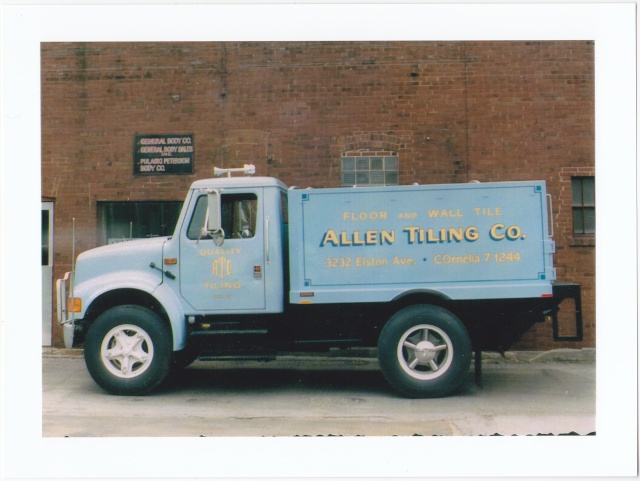 The blue international is the last truck we owned, and the one i rode around in with my Dad. Baby blue and gold were the company colors.
Now back to my Van plans. I plan to reserve the all original untouched interior of my van. Clean up and go thru engine and trans. Body work, straighten everything out and patch the bad, the right way. Powder coat everything underneath. Because my buddy is cheap and does good powder coating. Upgrade to Disc brakes for safety.
Straight stock for me thats the way I like it, uh huh uh huh.
UNFORTUNATELY the "Dealer installed glass" will have to go. Because it will not work with my plans

I hate to do it but I have to. I already have the glass listed for sale.
http://vintage-vans.forumotion.com/t45389-window-glass
I know the truck was a custom blue paint, not sure what exactly the color is called but we'll go with baby blue. The lettering is gold leaf flake. Hard to see in the picture but its pretty bad ass if you know how it looks. If I can figure out how to photo shop it ill post a pic. But for now you'll just have to picture it in your head.
Last edited by chevbone64 on Thu Dec 11, 2014 7:20 pm; edited 3 times in total