First of all I want to say this site is great!! So many helpful people. I have found alot of info. Keep up the good work guys!! I have always loved the a100 pickup and vans. So when my friend of almost 20 years told me about this a108 he found we decided to purchased the van together this febuary from a friend that was going to sell it for scrap. Thats just crazy! We had to put a stop to that! He got it free from a family member so he didnt care what happened to it. We had never seen one like this before so we had to get it. So we both put in $200 each. $400 not bad! It helped that the engine was rebuilt and the canvas on the pop up top was only a few years old.
Here are some pics of the van before we bought it.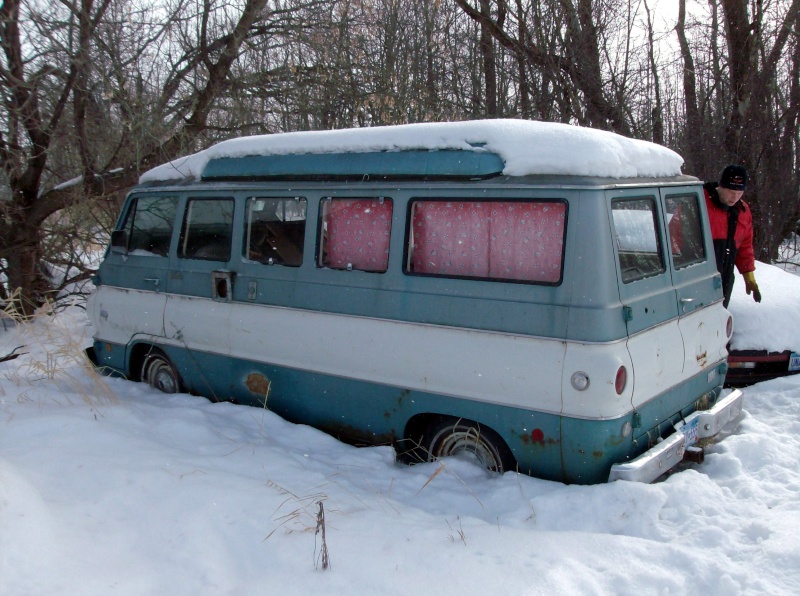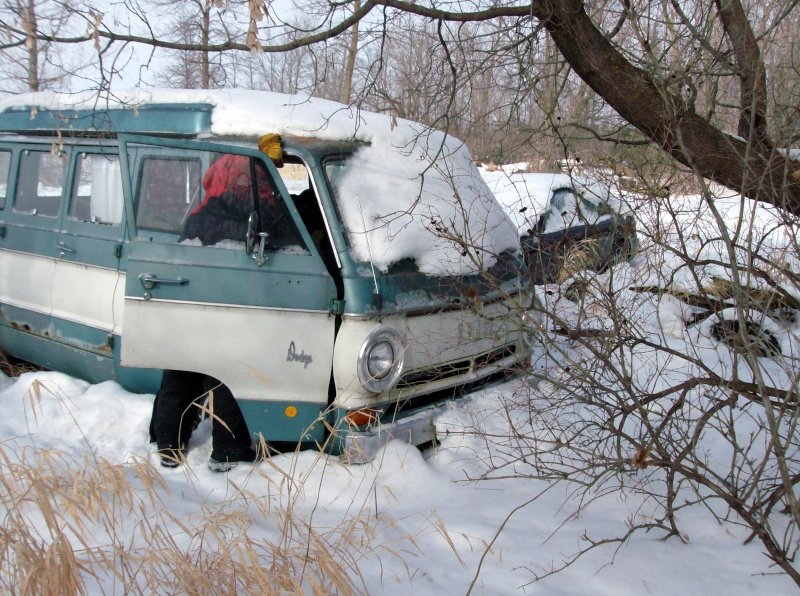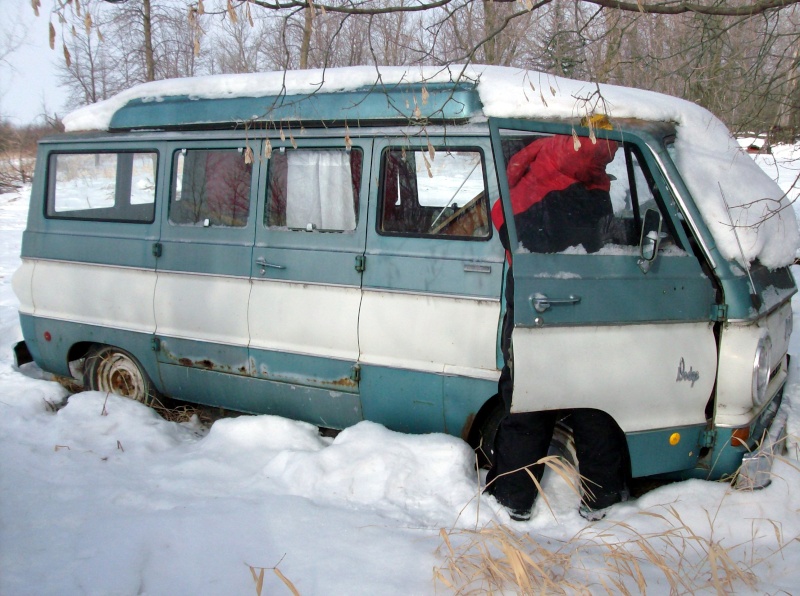 Shes a litttle rusty but not that bad seeing I am in minnesota. I was working when it was picked up so I missed all of the fun. The van had no brakes and three tires that wouldn't hold air. But they got it on the trailer and hauled it away.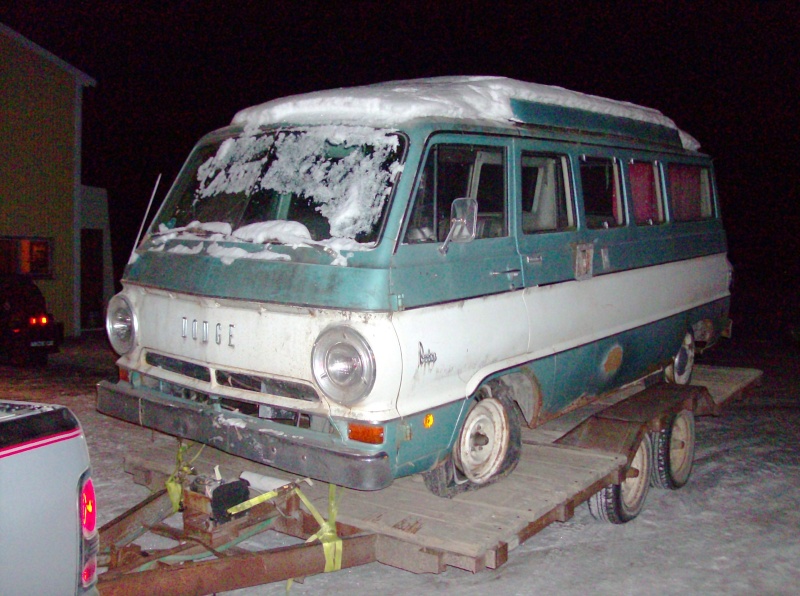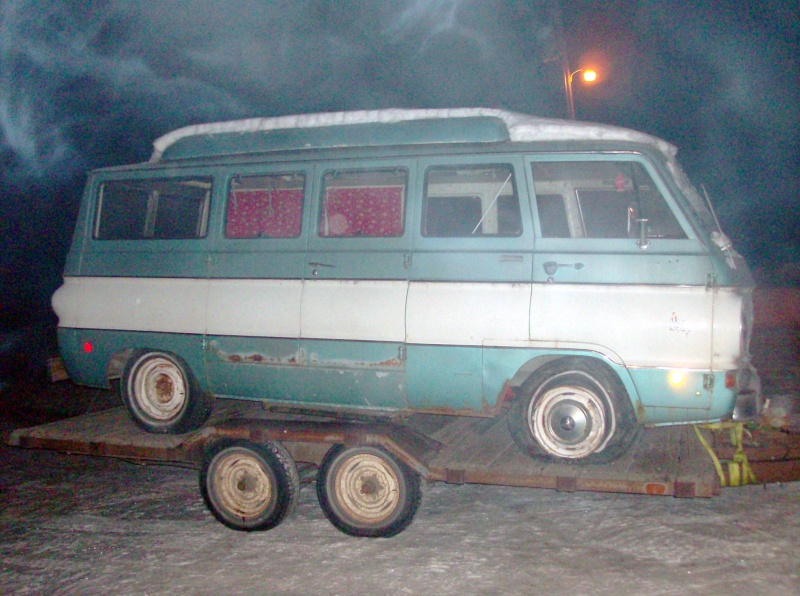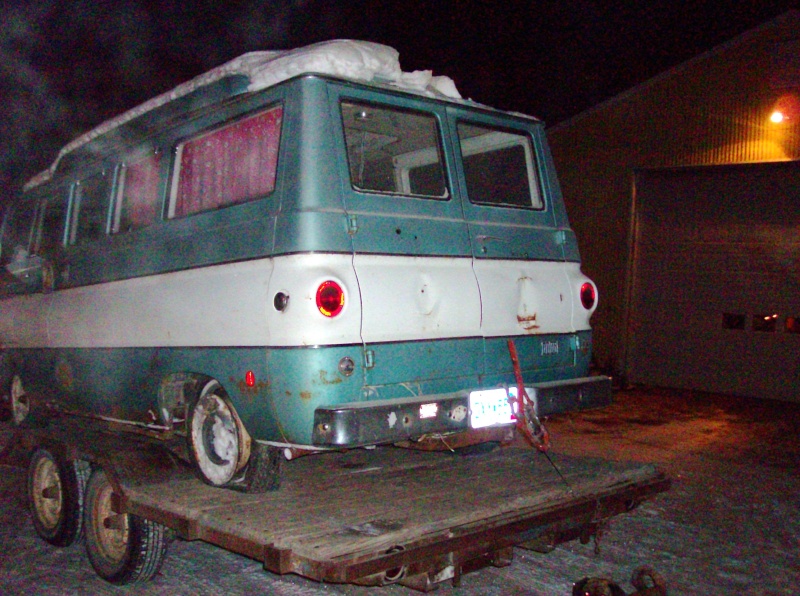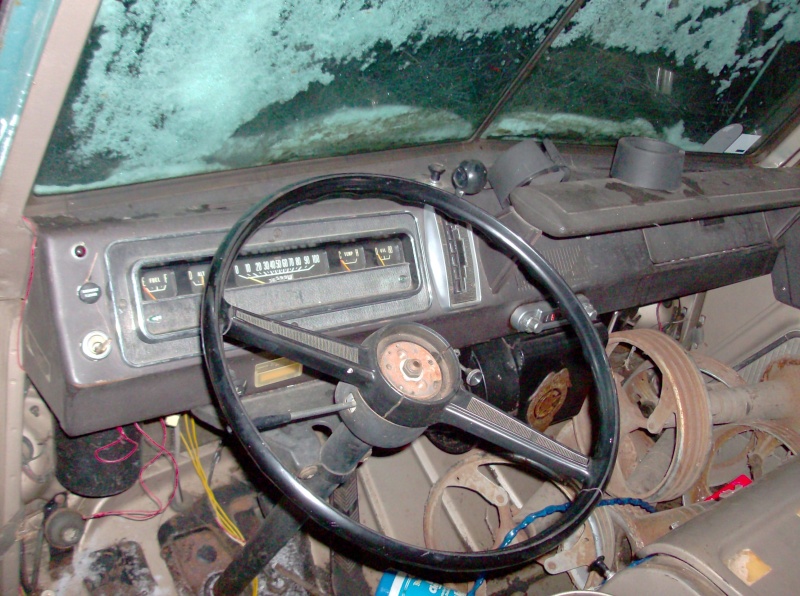 We wish we new more about the history of the van but we don't. All we know is what the previous owner told us. We were told it has been to both the east and west coast.
I know its been to chicago.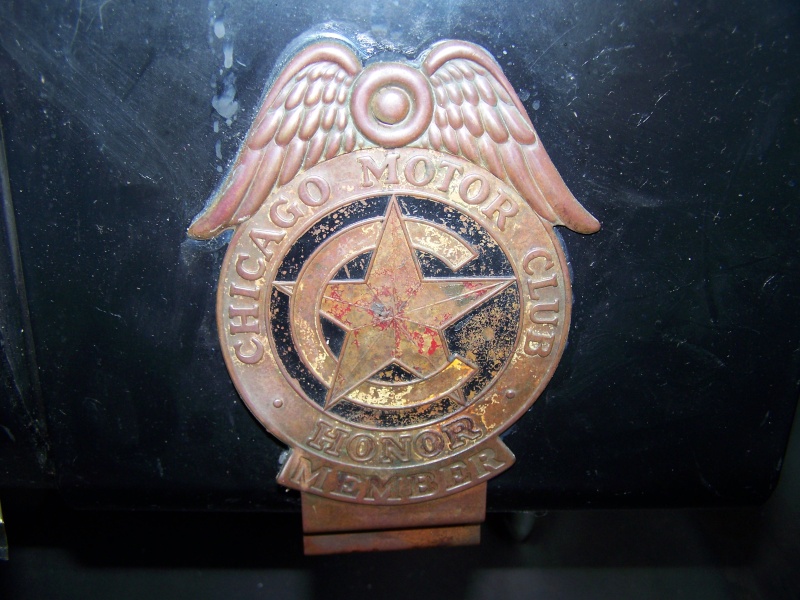 We brought her inside to melt the snow off. And our work on her started.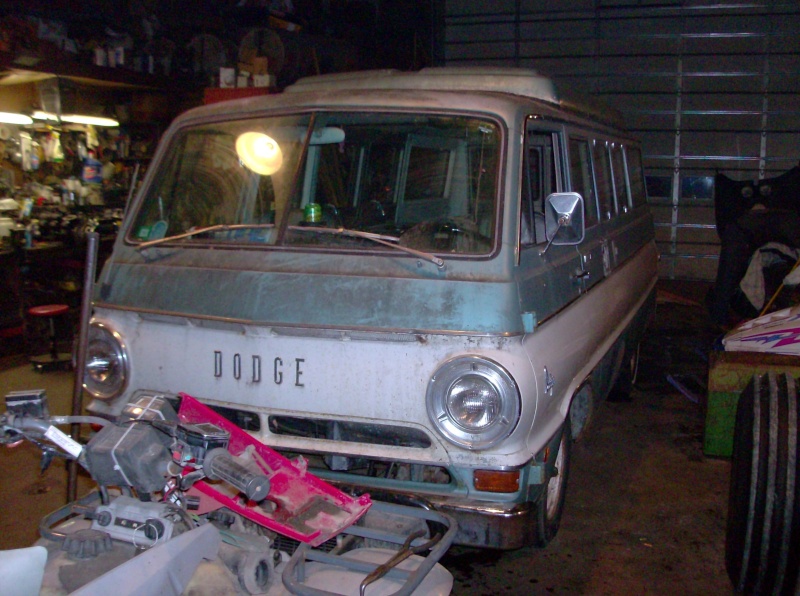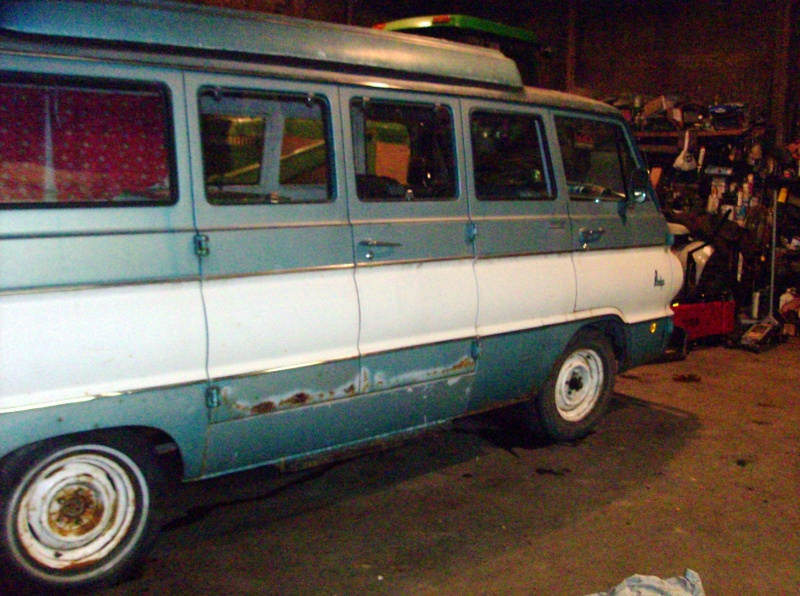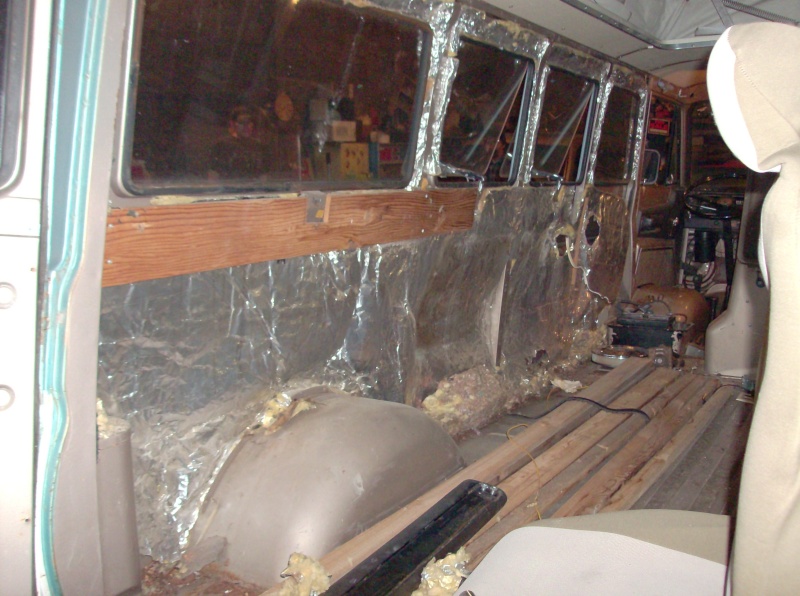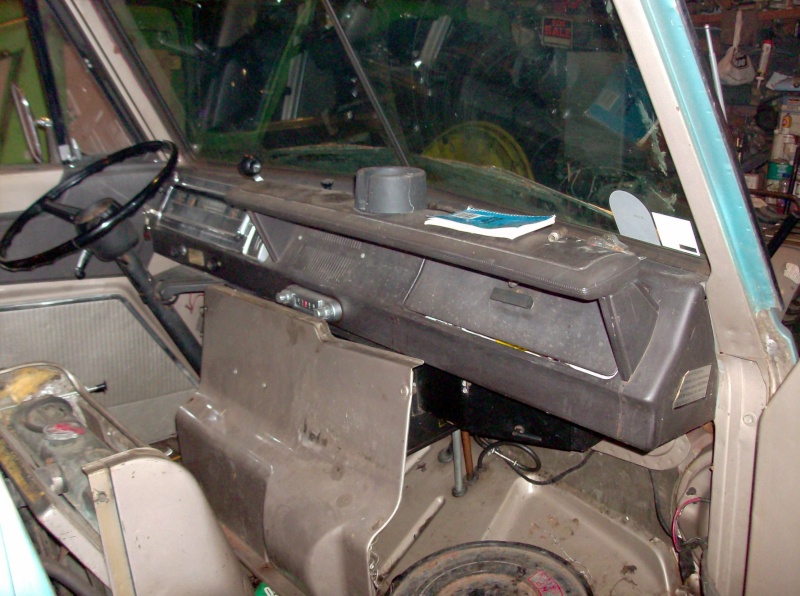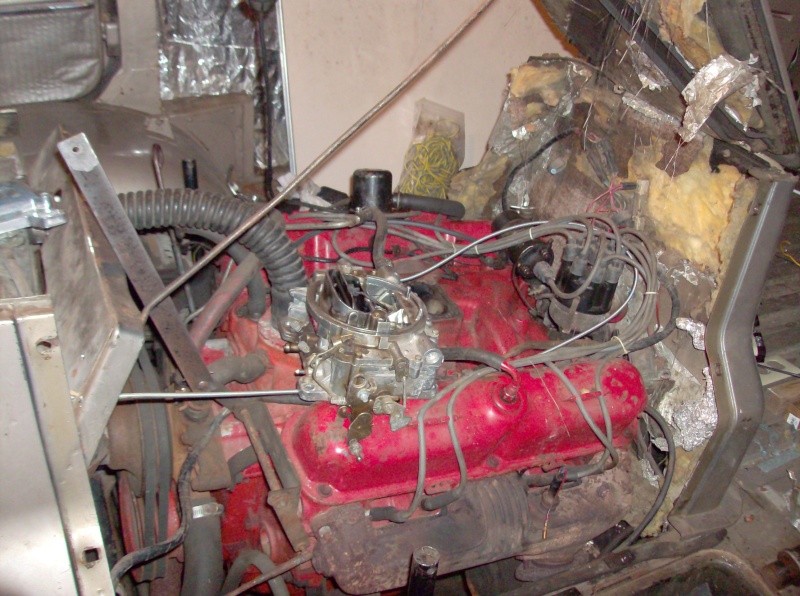 Now to start the list.
The van got a 3" lift in the back and a 2" lift in the front with 225/70R15 in the front and 275/60R15 in back.
New master cylinder, brake shoes(I hate drum brakes), shocks, alternator, battery, regulator, belts, thermostat, electric colling fan, fuel pump, holley street dominator intake and edelbrock 600cfm carb, points, resistor, plugs and wires. I finally got all of the dash lights to work(had to replace all the bulbs and reground them), but still haveing problems with the passenger tail light. Bulb doesnt get a tight enough connection, parking light comes on but no brake or turning signal. Gauges work except for the gas gauge. I also had to fix wires that some little critters decided to chew up. In the first pic you can see the big hole in drivers side wall were they were getting in. Previous owner took out the propane heater to put in his ice fishing house and never covered the hole. They chewed up some of the insulation and the wires for both headlights, one backup light. Could've been worse I guess.
The back of the van was empty(no seats, just the wall panels) when we got it so we got to do anything we wanted.
Added a microwave, refrigerator, tv, xbox, cd player, 12 disc changer, amp, 12" RF sub. Its taken alot of work, time, and money but were haven fun!
Here are some pics of the inside now.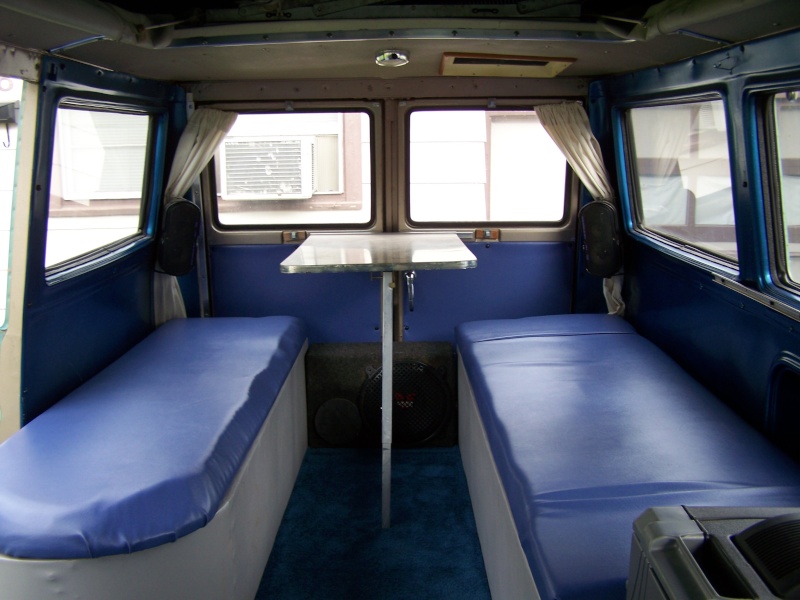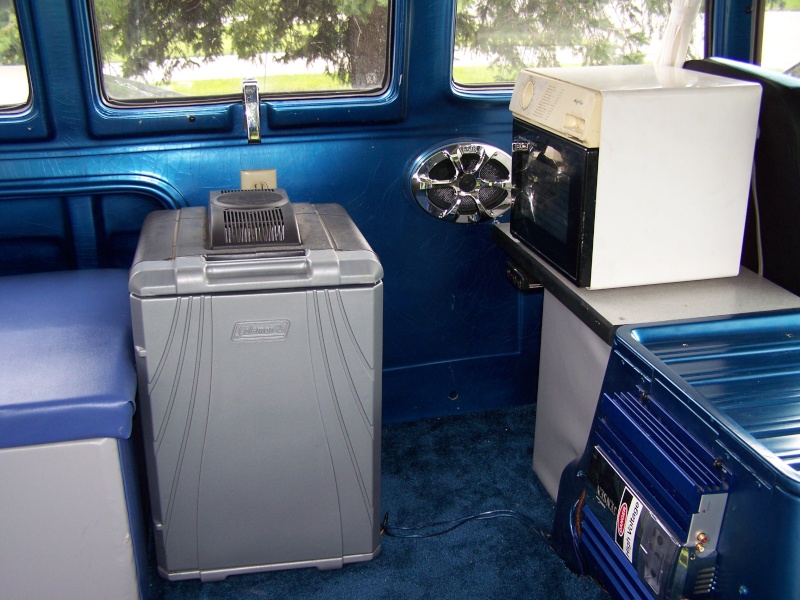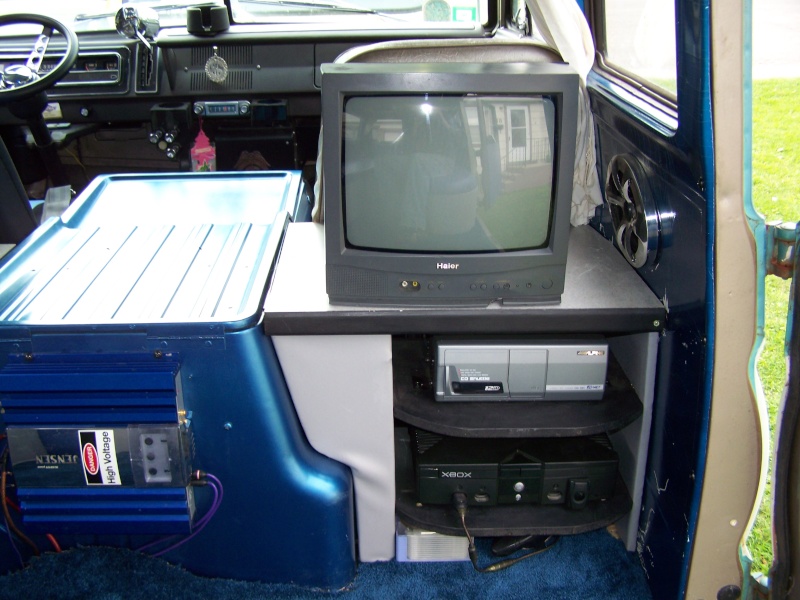 One of the previous owners built a overhead console for the radio. But now there are no sun visors. That was nice of them!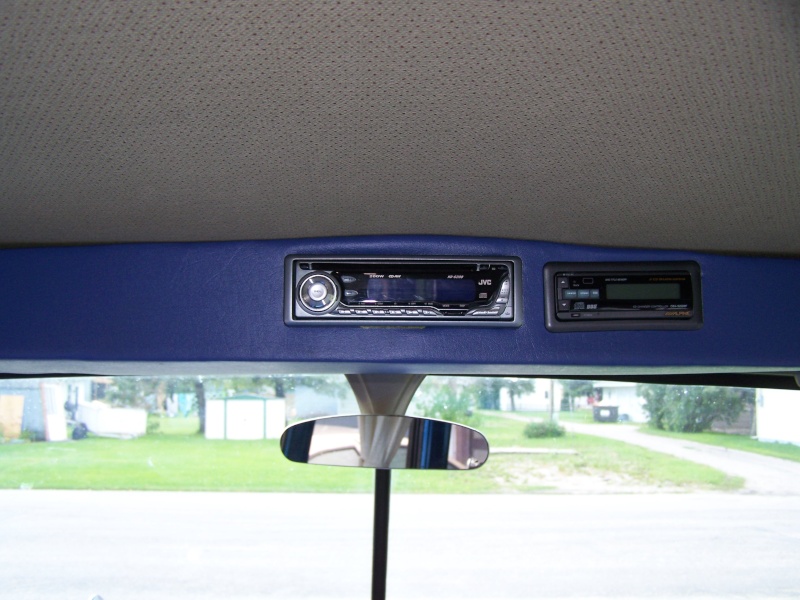 Here are the newest pics of the van I took a few days ago. I do have all the chrome but I took most of it off to start on the body work.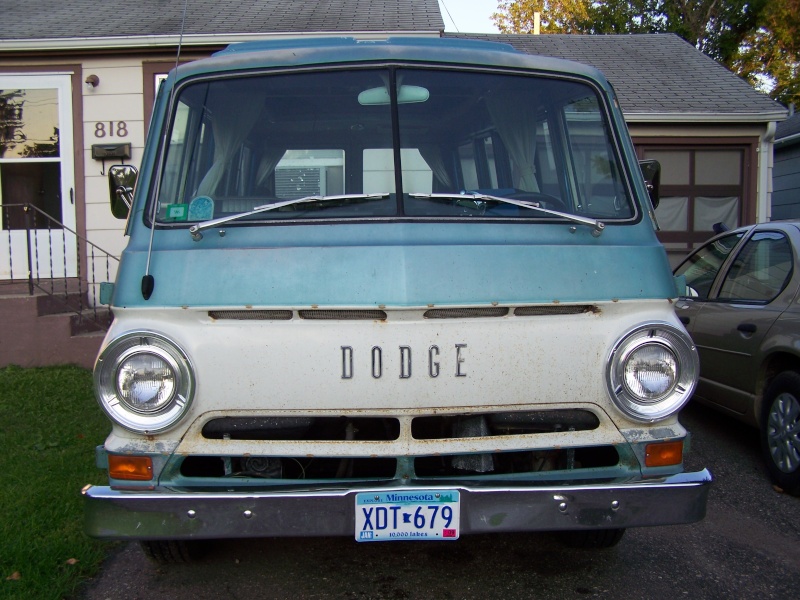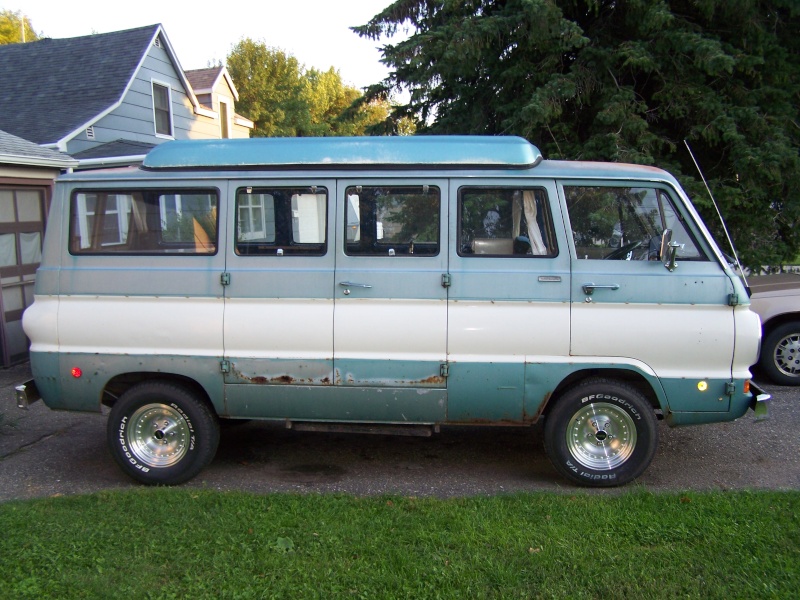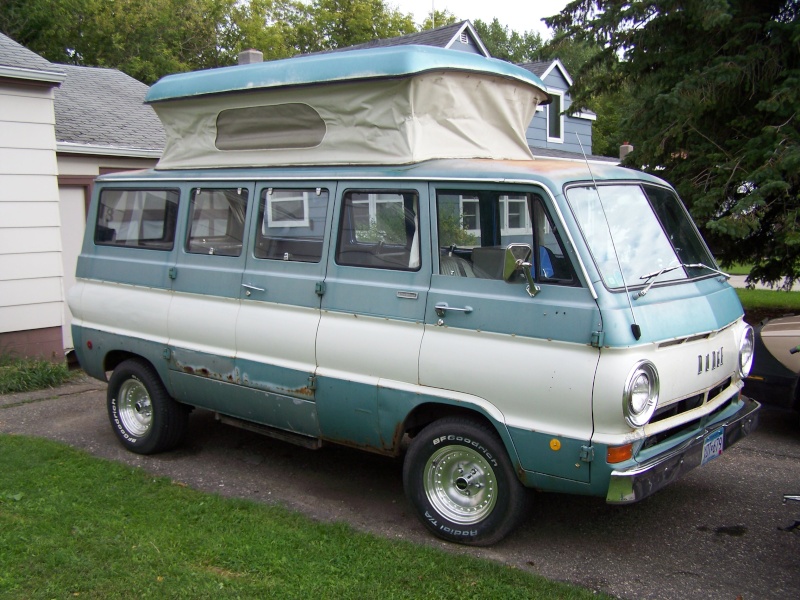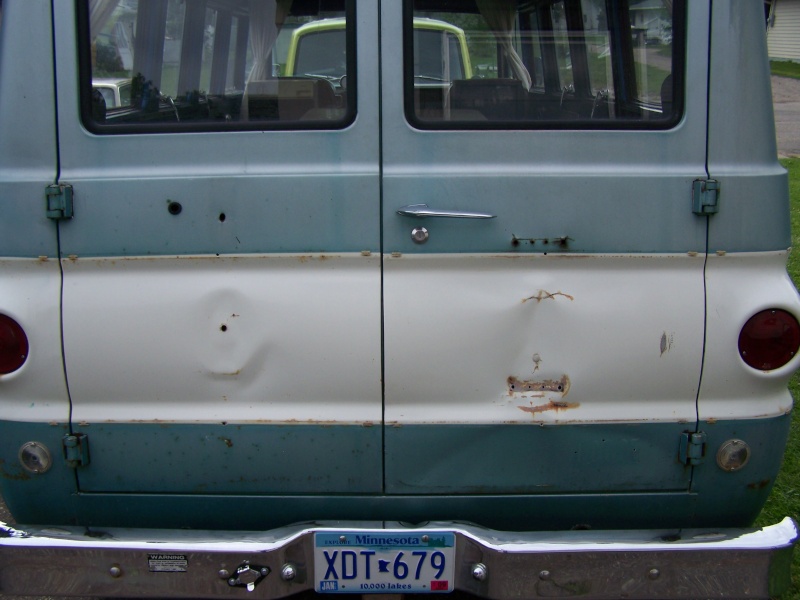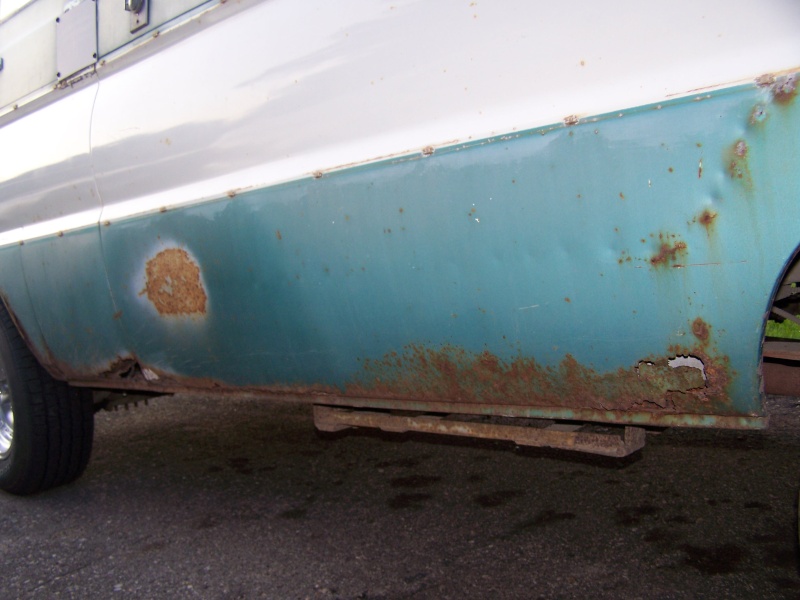 Yah the rust on the drivers side is ugly, but thanks to this site I finally found some body panels ive been looking for.
Does anyone know what that rack is for that is sticking out on the bottom there? Water tank?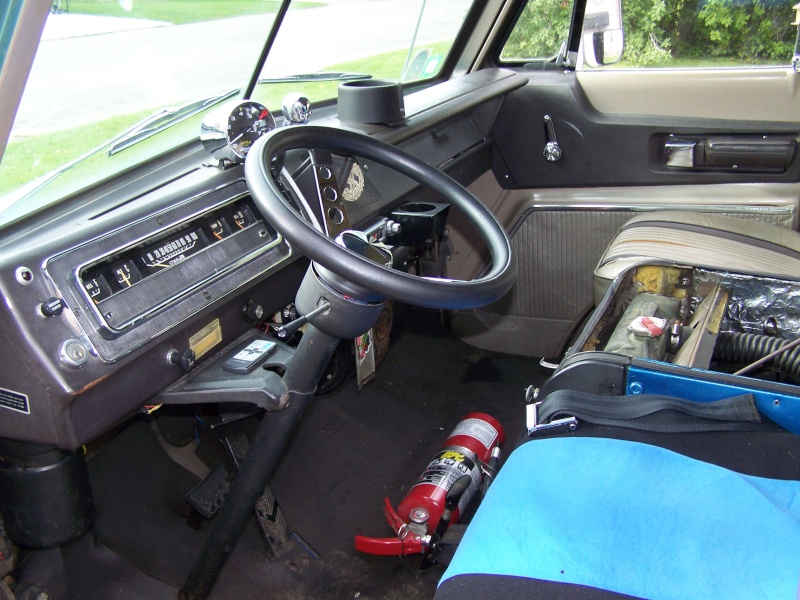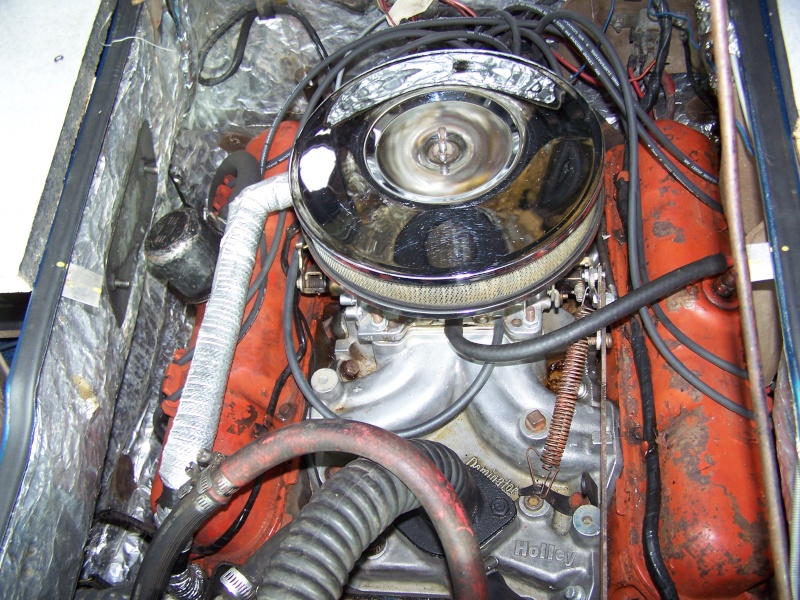 Ive got alot of pics but i will stop here, I could go on forever. I hope everyone likes the pics. Let me know what you think.